This post may have been a partnered post and/or may contain affiliate links. Please review my affiliate disclaimer page for more details.
My husband and I grew up on small simple meals. One of my husband's favorite meals is Beanie Weenies. Since we got the Quick Cooker he's made Quick Cooker Beanie Weenies in two different styles. They are so quick and easy to make now. We don't have to wait hours for the flavors to be cooked into the beans and weenies anymore.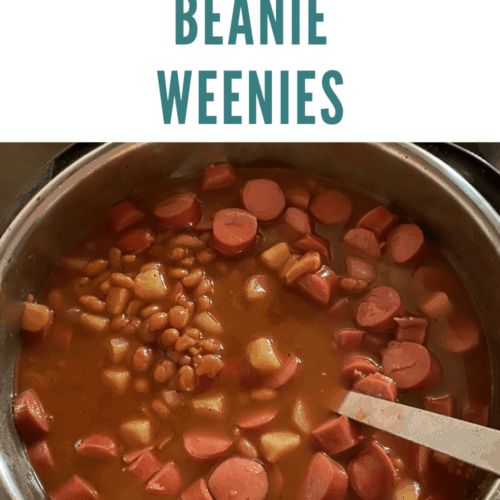 Quick Cooker Beanie Weenies
Make a family favorite is less time and have even more flavor.
Ingredients
lb

hot dogs

You pick amount

box

sausage links (box)

IF you're NOT doing hot dog version

.5

cup

honey

.5

cup

ketchup

1

cup

brown sugar

pepper

You pick amount

pork-n-beans

You pick amount
Notes
Chop up the hot dogs or sausage links into the size you want. They can be big or small. (Not to small!) 
If you're using chopped up sausage links, I recommend searing the meat slightly. 
Pork n beans (To the ratio you like, meaning, a lot a bean or little hot dog/sausage or little bean and a lot of hot dog/sausage) 
Add pepper to your liking
One half cup of honey
Half cup of ketchup (only for the hot dogs version)
Add a cup of brown sugar 
Use the stew setting on your Quick Cooker
As you can tell it's not a hard recipe to make, and it doesn't require a lot of ingredients. Your family is sure to gobble it all up. What's even better about this meal, is it's even better the next day.
What are you making in your Quick Cooker or Instant Pot today?
Check Out These Books For Even More Delicious Recipes
Instant Loss: Eat Real, Lose Weight: How I Lost 125 Pounds―Includes 100+ Recipes
The Step-by-Step Instant Pot Cookbook: Healthy Eating and Living | Easy & Flavor-Filled Recipes
The Must-Have Instant Pot Cookbook: Quick, Easy & Healthy 1001 Instant Pot Recipes Your Whole Family Will Love ( for Beginners and Advanced Users )
Instant Pot Cookbook for Beginners: 1000 Day Quick and Easy Instant Pot Recipes Meal Plan: The Most Complete Instant Pot Recipe Cookbook for Beginners … Instant Pot Pressure Cooker Cookbook)
The Ultimate Instant Pot cookbook: Foolproof, Quick & Easy 800 Instant Pot Recipes for Beginners and Advanced Users (Pressure Cooker Recipes)
Instant Pot Pressure Cooker Cookbook: 500 Everyday Recipes for Beginners and Advanced Users. Try Easy and Healthy Instant Pot Recipes.
The Best Pressure Cooker Recipes on the Planet: 200 Triple-Tested, Family-Approved, Fast & Easy Recipes