This post may have been a partnered post and/or may contain affiliate links. Please review my affiliate disclaimer page for more details.
If you know me at all then you know I'm the LAST person who wants to spend hours in a kitchen cooking. I have one special dish my family looks forward to me making, and I have found a way to make the cooking timeless and the clean up even easier! I now make Quick Cooker Meatloaf and Homemade Mashed Potatoes using the Pampered Chef Quick Cooker.
How to Make Quick Cooker Meatloaf
Quick Cooker Meatloaf
You can make this quick cooker meatloaf and homemade mashed potatoes in a tad under an hour with little to no mess.
Equipment
Pampered Chef Quick Cooker
Ingredients
2

lbs

93% lean hamburger

2

cups

Italian bread crumbs

1

cup

milk

3

Tbsp

Worcestershire sauce

3

Tbsp

soy sauce

2

eggs

3

Tbsp

garlic powder

3

Tsp

salt

3

Tsp

pepper

3

Tbsp

Parmesean cheese
Coating for Top of Meatloaf
4

Tbsp

Ketchup

2

Tbsp

Mustard

1

cup

brown sugar
Mashed Potatoes
1

stick

butter

2

Salt

3

milk
Notes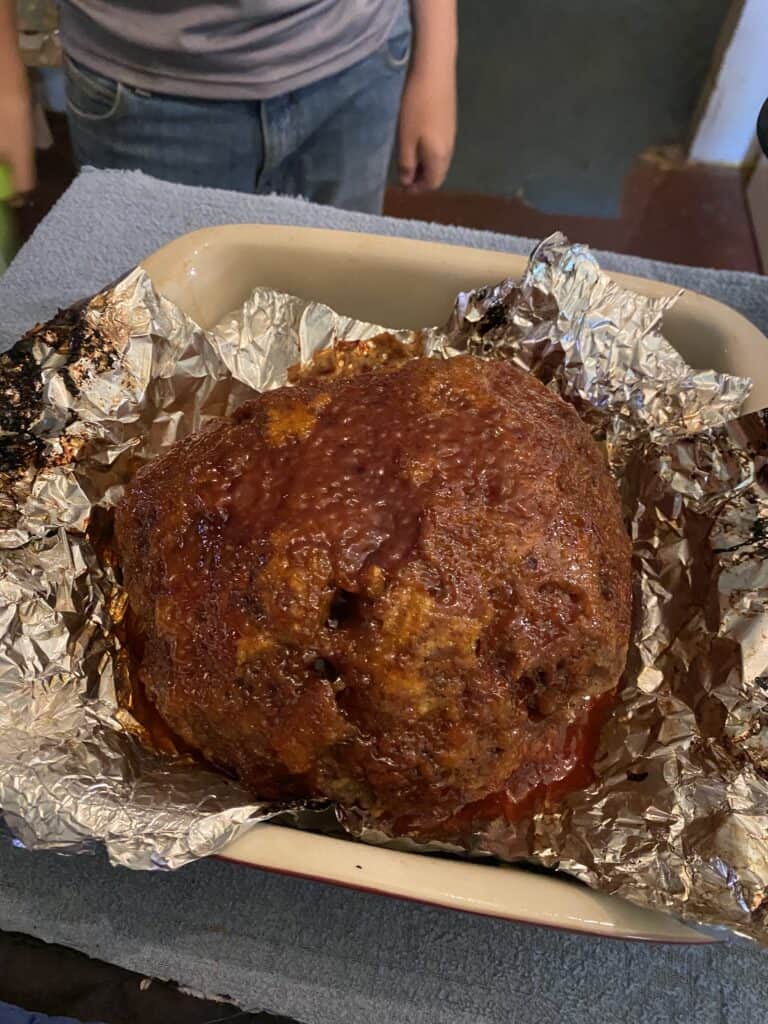 Mix all ingredients well using your hands preferably. Please note the number of spices may be less or more depending on your taste. I honestly don't measure it when I put it in so I'm guessing the amounts I typically use. 
Then you take two pieces of aluminum foil and spread it out and spray it with Pam spray. Then take the meatloaf and form a small tight ball. Wrap it in foil. 
Place your half of a bag of peeled potatoes on the bottom of the cooker with one cup of water. Then add a metal rack. Place your meatloaf on top of the rack. 
Then turn your cooker on. Select custom time and set it for 45 minutes. 
When it's done, release the pressure manually. Then take meatloaf in aluminum foil and place it into a broil safe pan. Add the coating on top of it. Place in oven on high broil for 7-10 minutes. 
While that is cooking make the homemade mashed potatoes by adding a stick of butter and a couple of tablespoons of milk, using a mixer. 
We have used the Pampered Chef Quick Cooker almost every day since I got the first one. Since it was only a few dollars more to get the Ultimate Kit that included another Quick Cooker, I became a Pampered Chef Independent Consultant. I was one in 2004-2005 LONG before I became active on the Internet. I did well with it then, and I have always been a hermit crab. I have decided to take the chance on doing it again.
Now that I can make homemade meals from home with plenty of quick and easy recipes, we have definitely put more money in our pockets! By using the cooker, the clean up is done in no time at all.
What are some foods you like to make in an instant pot/pressure cooker?
Instant Loss: Eat Real, Lose Weight: How I Lost 125 Pounds―Includes 100+ Recipes
The Step-by-Step Instant Pot Cookbook: Healthy Eating and Living | Easy & Flavor-Filled Recipes
The Must-Have Instant Pot Cookbook: Quick, Easy & Healthy 1001 Instant Pot Recipes Your Whole Family Will Love ( for Beginners and Advanced Users )
Instant Pot Cookbook for Beginners: 1000 Day Quick and Easy Instant Pot Recipes Meal Plan: The Most Complete Instant Pot Recipe Cookbook for Beginners … Instant Pot Pressure Cooker Cookbook)
The Ultimate Instant Pot cookbook: Foolproof, Quick & Easy 800 Instant Pot Recipes for Beginners and Advanced Users (Pressure Cooker Recipes)
Instant Pot Pressure Cooker Cookbook: 500 Everyday Recipes for Beginners and Advanced Users. Try Easy and Healthy Instant Pot Recipes.
The Best Pressure Cooker Recipes on the Planet: 200 Triple-Tested, Family-Approved, Fast & Easy Recipes