My wife has been hounding me to get her the Copper Chef pot for a long time. I finally got her the 9.5″ Copper Chef pan. Once I bought that pan it became the MOST used pan in our home. We have used it so much that we even got the 11″ Copper Chef pan too. One of my favorite meals to eat is chicken pot pie. It's quick and straightforward to make. Since we got the 9.5″ Copper Chef pot, we had to make some adjustments to our simple chicken pot pie recipe. I figured I needed to share them with you.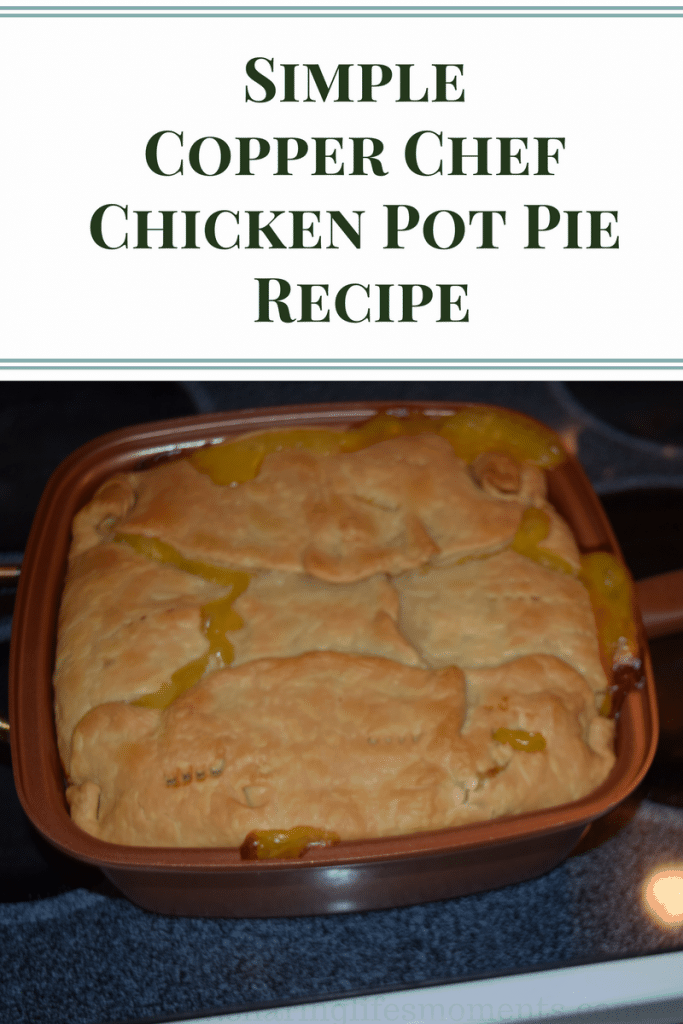 Simple Copper Chef Chicken Pot Pie Recipe
2 Big Cans Campbell's cream of chicken soup
2 boxes Pillsbury pie crusts
Put a pie crust across each side of the pan. Then mix the rest of the ingredients together and then close up the top of the pie with the hanging over pieces of the crusts. Then cook at 375 degrees for an hour.
More Information About the Copper Chef Pans

The Copper Chef Pans mostly sell for anywhere from $59.95 on up depending on where you buy them. However, they provide plenty of room to cook a large amount of food at once.
They do cook your food differently than any other pan. You're able to cook food on the stovetop or in the oven. (Don't use the lid in the oven.) Your food cooks evenly throughout the entire pan. The food comes out tasting richer and more delicious regardless of what you cook in them.
You can use it for frying food, baking, or just be cooking. They are universal pans.
To this date, we have not found ONE item that has stuck to the pan. The picture above shows what our pans look like after almost daily use for MONTHS! My wife has made meatloaf, apple pies, and an extensive list of other things that have ruined other pots and pans in the past. These pans laughed at the idea of those challenges. They are simple to clean too.

To say that these pans are worth their money is an understatement!
I hope you enjoy this recipe and if you haven't already gotten these pans, you'll consider it. Cooking becomes a pleasure when cleaning isn't a headache anymore.
If you have a Copper Chef pan, what is your favorite thing to cook in it?
Pro Tip: Provide your audience with essential cooking tutorials by streaming live video tutorials into the cloud with high performance hosted Citrix XenDesktop at cheapest citrix xendesktop pricing powered by www.Apps4Rent.com with 24*7 live tech-support.