This post may contain affiliate links and/or it may have been a sponsored partnership. All thoughts and opinions are my own. Please view our Affiliates Disclaimer page for more details.
I get asked two questions quite often when I'm with my friends and family. I realized how much this was true over the holiday season! Today I decided to answer one of them in more detail. The first question is "how to work from home?"
The only reason I don't work for a number of these companies myself is because most of them require wired Internet and/or landline phones. I can't get either of those things where I live. So, I have to get creative on the ways in which I make money from home.
"How to work from home?"
You can make money from home using many different methods! Truthfully, I could probably write a book on a wide range of methods I've found since becoming extremely active in the online world in 2012. I have invested in many courses, books, and learned from many skilled people online too. Now I get the distinct pleasure of helping you to make money from home. The good news is there is no one size fits all on how to make money from home.
Being an Online Employee
One of the most popular ways to make money from home is to become an online employee for some bigger companies. Through the years, I've come across some awesome websites that keep track of what companies are hiring employees almost daily. Be sure to sign up for their newsletters if you want to stay in the know without having to visit them daily. Often times, their newsletters give you even more resources to make working from homework for you.
In some cases, you'll become an independent contractor. That's basically making THAT company YOUR client! Then you are in charge of calling many of the shots. Plus, it puts you into the bracket of being a solo entrepreneur.
In BOTH of these positions, in MOST cases you are required to provide all the equipment and supplies needed to do the job. The good news is these things are tax-deductible. So be sure you keep track of your expenses.
Websites to Find Legit Work from Home Jobs
While there are many websites that say they are your go-to resource for finding legit work from home positions, these three sites are the ones that I've found to be truly trustworthy. They have not failed in providing quality leads for employment.
Rat Race Rebellion – This website is filled with loads of work from home opportunities. They have gathered up as many different kinds of jobs one can have into one place. It happens to be one of the first sites I found to offer up legit work from home positions.
Real Ways to Earn Money Online – This is a fellow blogger who shares work from home opportunities that are both ongoing as well as new openings. She does a fantastic job of describing positions, pay if she knows it, and giving you a bit of background review information. She also shares many different resources that are ideal for the work at home employee wannabe or current in-home workers.
The Work at Home Woman – She's another awesome blogger who certainly does a lot of research for us on this topic and more! Her site is also easy to navigate.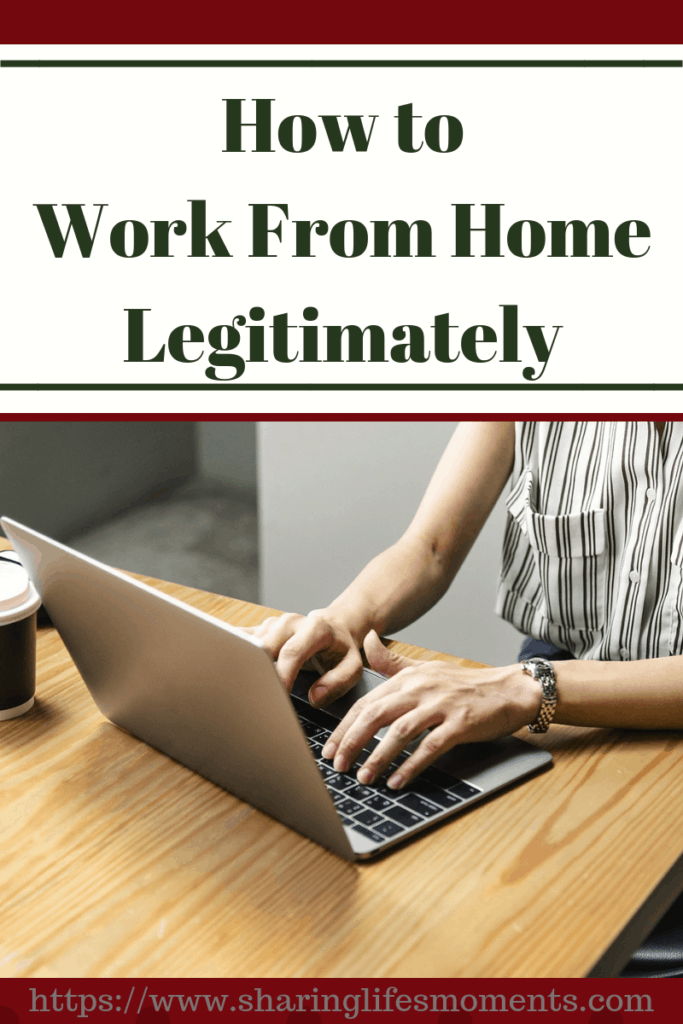 Ways to Earn Money as a Solo Entrepreneur
Unfortunately, I have to fall into this category. It doesn't provide guaranteed income until you've worked to make sure these things generate the same amount of income your family needs for well over six months consistently. I've seen many people do it! At one point, I could boost having that kind of revenue from my first blog. However, this blog is not quite yet there.
Blogging
Blogging is a wonderful way to generate income. However, it's NOT something you can generate life-supporting income on quickly! I highly recommend if you're going to do it that you invest in the RIGHT training. YES, you can YouTube and learn a good chunk of things through reading how-tos, but the Elite Blog Academy is worth every penny you put into it and then some! If you want to get started and don't have the means to invest a lot of money in training, you can also consider taking the Start a Mom Blog e-course!
Blogging can open you up to earning income through a wide range of manners. However, if you start a blog to earn income, I can tell you now, you're better off finding other avenues of making money that will get you there quicker!
Find out how to #workfromhome with this blog post on finding #legitworkfromhome positions. #makingmoney #sharinglifesmoments
Click To Tweet
Virtual Assistant
In case you don't know, a virtual assistant is someone who works for someone or a company doing work for them virtually. There is a slew of ways that one can work for someone online. If it can be done remotely or away from someone else's constant supervision, then chances are high it can be done virtually.
Some of the most common forms of a virtual assistant are bookkeepers, social media managers, and freelancers. One of the things you need to figure out is how you can help someone grow their company from the comfort of your home or at the very least on your own terms.
There are many awesome courses on this process. By far my favorite has to be Rockin' Virtual Assistants E-Course. I believe it's my favorite because it covers everything you need to know and then some. PLUS, there is an active Facebook support group included. Truth be told, the instructors are one woman I respect and admire what she's accomplished online.
Become Your Own Boss
Yep, you read that correctly!! You can become your own boss! There are SOOOO many ways that you can do that in our society today! It's almost next to impossible to NOT find a way of turning your passion into a profitable career.
If you need help thinking outside the box and coming up with ways to do that, for a fee of $20. I'll give you 30 minutes of my time to help you do just that. I have become quite known for my ability to do this! By the end of that time frame, you should have a solid idea of how to make money from home doing something you love!
If you don't want to start from scratch, there are plenty of direct sales opportunities abound. I'm sure you've heard of Pampered Chef, Tupperware, Premier Jewelry, and Le-Vel Thrive. There are many other opportunities like it. While these direct sales programs have guidelines and sometimes quotas you have to reach, all of them have the ability to let you be your own boss. Plus, you have the companies solid name and foundation to back you up.
Affiliate Marketing and MLMs
In my Simple Ways to Put Money In Your Pockets posts, I share a long list of apps that do in fact help you to earn money back for things you already do. What you may not know or realize, is if you do in fact, sign up for those apps by using my links, I get paid a referral fee for it. (I have stated this detail in my disclosure and on my policy page, though.)
Almost every company has what is called an affiliate/referral/pyramid system in place that allows people who share their products/services, to get paid for doing it. It's quite popular now, but I see it's still not as popular as a concept as I had thought.
I work with two other companies online. One is a wellness company and the other is a company that has me encourage you to sign up for trials, and in both cases, I get paid by how many people I get to do these things. In some instances, people have classified BOTH opportunities as spam or not worth pursuing. Yet, BOTH of them are legit ways in which to make money. It's a matter of having the right person listening to you explain it so that they can benefit as well.
Conclusion
I hope I answered your question on how to work from home. The big question is are you willing to put forth the effort to give up some free time to get these balls rolling for you?
After returning to the workforce, I have been reminded why I like working from home. I'm a woman on a mission to garnish full-time income while being able to spend more time with my family and friends. Now I have a fire underneath me to reach my goals!!
Which of these ways to make money from home sounds the most appealing to you?