This post may contain affiliate links and/or it may have been a sponsored partnership. All thoughts and opinions are my own. Please view our Affiliates Disclaimer page for more details.
As a mother of many kids, I have learned how much DIY handmade Mother's Day gifts truly do touch our hearts. Young kids do not have the opportunity to buy their mother's gifts. Many moms don't feel right spending money on themselves when they are seeking financial freedom in the home already. That's why these DIY handmade mother's day gifts fit for any occasion. I've recruited the help of some of my blogger friends to help give you some ideas for your kids to make this year.
Fabric Bowls by Mosswood are neat for women who need a place to put their keys, rings, and other little trinkets.
Make her dinner setting extra extravagant with these Japanese Tie Dye Shibori Napkins by Oranized 31.
Every mother gets stressed from time to time, and deserves a hot bath complete with handmade Soothing Lavender Bath Bombs by Steam Powered Family.
This 3D Mothers Day Crafts for Kids by 123 Homeschool 4 Me is one that may take time, but it will be treasured for years to come. After having my mother in law making a small stepping stone with my child's handprint in it, I can say with certainty this is a project you'll want your kids to complete.
This Fingerprint Butterfly Mug Painting by The Best Ideas for Kids is one craft that I would have never thought of making. Yet, it's so symbolic and in reflection, you'll see how much their little fingertips will have transformed through the years. Our kids are little butterflies that go through many transformations in front of our eyes in such a short time span.
Make her #mothersday special with these #handmademothersdaygifts ideas. #kidscrafts #giftsformom #DIYgifts #mothers
Click To Tweet
I've always been a keychain collector. One day I'll get them all hung up in my room again. This DIY Mother's Day Bottle Cap Keychain by Artsy Fartsy Mama would definitely be a gift I'd love to have given to me.
My mother-in-law is an avid gardener and spends plenty of time in her garden. Then she'll appreciate these Spring Crafts for Kids: Decorate Terra Cotta Pots by Mama Smiles.
All mother's need a reminder that they are rocking this whole motherhood journey. I feel this MY MOM ROCKS! MOTHER'S DAY CRAFT is just the gem to ensure she has a constant bit of encouragement in front of her.
Rhythms of Play has also created a roundup of AMAZING handmade project ideas your kids can use for mothers for any occasion too. I couldn't just choose one from this outstanding list, so I encourage you to click on this image to see all of the ones she's showcased.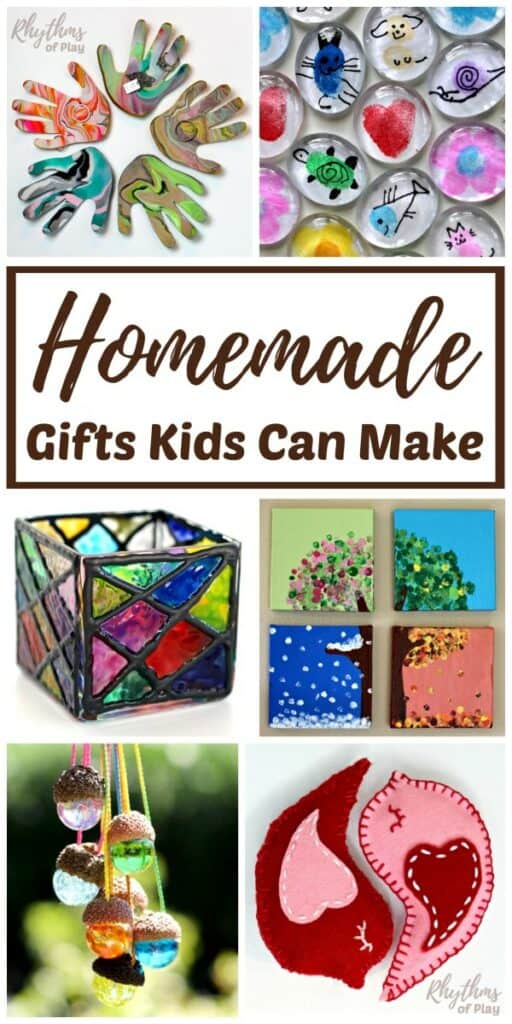 I'm confident that the mothers and grandmothers in your life would value getting any of these DIY handmade Mother's Day gifts to make that fit for any occasion. I appreciate these fellow bloggers for sharing these crafts with us too. I hope you'll take the time to check out their crafts too.
Talk to me in the comments:
What is your favorite handmade mothers day gifts you've ever received?
Southern wife and homeschooling parent who seeks to help women pursue their passions while making every moment count. I aim to help you have more time for what matters most to you, such as your family, friends, and your own self-care. I look forward to connecting with you and helping you improve your daily life. Visit us at Sharing Life's Moments