This post may contain affiliate links and/or it may have been a sponsored partnership. All thoughts and opinions are my own. Please view our Affiliates Disclaimer page for more details.
I am a strong advocate for marriage resources. When I was given the chance to review the book Love Like You Mean It thanks to B&H/LifeWay Bloggers program, I was quick to snatch it up. This is especially true when I saw that Gary Thomas foreword this book since he's one of my favorite authors.
About Love Like You Mean It Book
Every year, millions of men and women stand before friends and family to pledge their lifelong love to each other. Do they know what they're getting into?

Unfortunately, many people have a shallow, superficial idea of what marriage is. As a result, many marriages don't last, and many more married couples are trudging along looking for something more.

Love Like You Mean It gives husbands and wives a biblical understanding of what real love looks like in marriage by unpacking the ten attributes of genuine love listed in 1 Corinthians 13. Bob Lepine, marriage and family expert and host of the nationally syndicated radio program FamilyLife Today, helps husbands and wives discover that it's not primarily emotions that define marital love, but actions and decisions that fuel emotions and cause marital love to grow.

Every person who is married would like to be married one day or wants to understand more about the biblical vision of marriage will find what they're looking for as they dive deep into Love Like You Mean It.
My Love Like You Mean It Book Review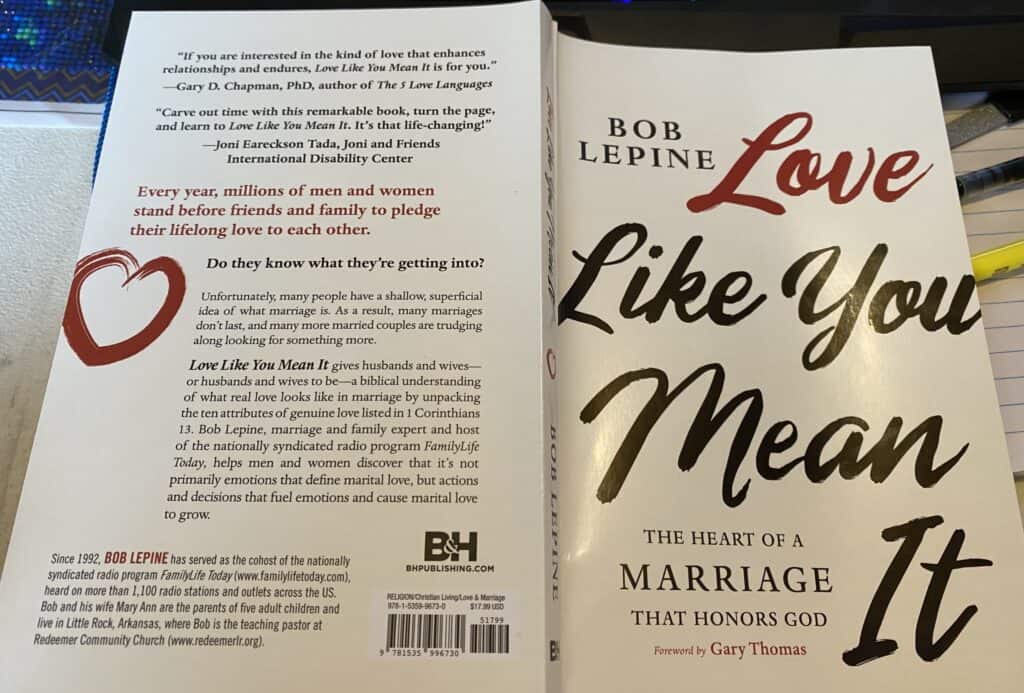 This book opens up rather well. It captures your attention and asks you some straight to the point questions. The overall concept of this book is to basically put one's spouse ahead of ourselves. It is a big persuasive book explaining how and why we need to do that within our marriages.
Love Like You Mean It is a book that will encourage couples to love completely. I believe it's a great eye opener. He showcased how we typically fall short in loving completely. He gives Biblical verses for us to refer to, and how we are to love our spouses and others.
Overall, I found this to be a good marriage book. Would I list it as my top recommendation, most likely not. However, if you're dealing with a selfish spouse, it's one worth encouraging them to read if they are willing to work on their marriage too.
Learn More About the Book
You can learn more about this book by visiting the website for it. You can connect with the author on Facebook, Instagram, and Twitter.
Buy The Book Today
What is your favorite marriage book?
Southern wife and homeschooling parent who seeks to help women pursue their passions while making every moment count. I aim to help you have more time for what matters most to you, such as your family, friends, and your own self-care. I look forward to connecting with you and helping you improve your daily life. Visit us at Sharing Life's Moments