This post may contain affiliate links and/or it may have been a sponsored partnership. All thoughts and opinions are my own. Please view our Affiliates Disclaimer page for more details.
Tinkering Labs has become a solid resource for getting STEMlearning projects for the kids to do. STEM learning is a vital thing for our young learners to have a strong handle on. When we were given the chance to review their Electric Motors Catalyst Kit I knew my kids would have a field day making all the different creations with it.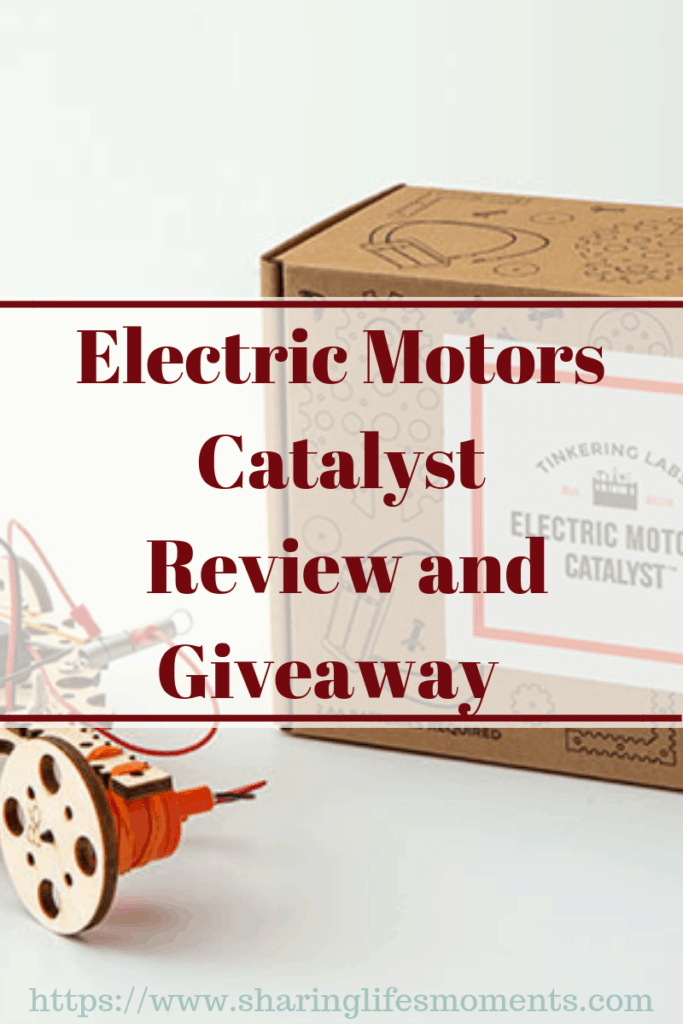 About Electric Motors Catalyst Kit
The Electronic Motors Catalyst kit is a kit that provides our kids with the tools to make 16 inventions. This was made so that kids can learn how things move using motors.
Electric Components:
2 Electric Motors with Detachable Wires
1 Battery Pack with Switch
2 AA Batteries
Wooden Components:
1 Wooden Chassis
12 Wooden Wheels in 6 Sizes
6 Wooden Connectors in 3 Shapes
Hardware & Connectors:
2 Metal Axles
4 Metal L-Brackets
10 Small Bolts with Wing Nuts
2 Metal Springs
12 Bushings for Motor and Axle Connections
12 Rubber Bands
Tools & Supplies:
1 Pair of Safety Glasses, Child Size
3 Washable Markers
1 Large 3-Foot Wide Paper Work Surface
1 Full-Size Phillips Head Screwdriver
Storage:
1 Cloth Storage Bag
1 Clear-Top Metal Hardware Tin
Extras:
Printed Tips & Guides
10 Challenge Cards
1 Clear Challenge Card Holder
1 Safety Tips Card
1 22-Page Building Techniques Booklet
My Review
I was so thrilled to get the chance to give my kids something else to use to enhance their STEM skill sets. I didn't realize it didn't allow them the chance to use their phones. However, for me personally, that was more of a blessing rather than a disappointment.
This kit kept the kids entertained for hours for several days! They each made one of the items from the cards. They had fun challenging each other to see who to could make the best invention.
I'm not quite sure what each creation did, but they made one that drew on the paper in circles. They also attempted to make many other things as well. They have had this kit for a couple of weeks, and they still pull it out along with other things, like their LEGOs, household utensils, and other things to see what they can do to enhance a current project.
Normally kids lose all kinds of parts of kits like these, but with this particular kit, I can't say this is an issue at all. They have kept meticulous track of every piece of it.
It's safe to say that I'm quite impressed with this kit. It challenges my kids and gives them things to conquer. It
You don't want to miss out on the fun this kit gives you. You can buy one by visiting Tinkering Labs.
Southern wife and homeschooling parent who seeks to help women pursue their passions while making every moment count. I aim to help you have more time for what matters most to you, such as your family, friends, and your own self-care. I look forward to connecting with you and helping you improve your daily life. Visit us at Sharing Life's Moments