This post may have been a partnered post and/or may contain affiliate links. Please review my affiliate disclaimer page for more details.
One of my son's favorite meals has always been my Beef Stroganoff! He will eat an entire pot full by himself if he was allowed to do it. If you saw my six foot plus bean pole of a guy, you'd find that hard to believe. He loves it though! Now that we got the Quick Cooker, I can now make it in less than an hour! I LOVE it! The meat comes out tender and all of the flavor is still in the meal.
Quick Cooker Beef Stroganoff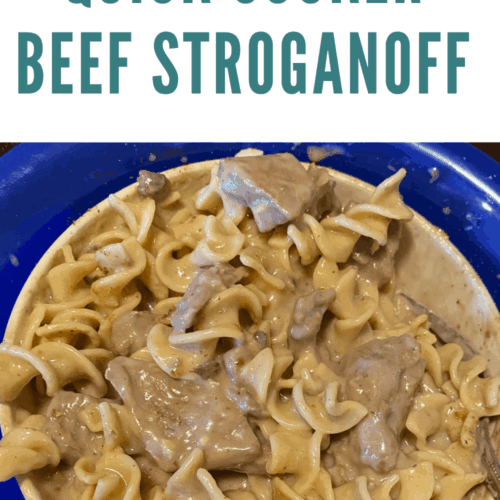 Quick Cooker Beef Stroganoff
Quicker version of making this delicious comfort food that everyone will want the last bite of.
Ingredients
1

lb

Beef Stew Meat

8.25

oz

Beef Stock

.5

cups

Sherry

2

cans

Big Cans of Campbell's Cream of Mushroom Soup

To UR Taste

Garlic Seasoning Blend

To UR Liking

Meat Tenderizer

Whole bag

Egg Noodles
Notes
The first thing you need to do is add some vegetable oil to the Quick Cooker and then add your meat, and select the SEAR option on the cooker. You need to sear your meat for about five to seven minutes. Then select Warm/Cancel on the cooker. 
Then you need to add the entire container of your beef broth, cream of mushroom soup, and seasonings. Mix VERY well together.  Then hit custom, time, and then set it for 19 minutes. When the time is up MANUALLY release the pressure completely. 
Then you add in your egg noodles to the cooker and stir everything up. Then put the lid back on the cooker (ensure your release button is back up and level again) and press custom, time, then set it for 4 minutes. 
We have used the Pampered Chef Quick Cooker almost every day since I got the first one. Since it was only a few dollars more to get the Ultimate Kit that included another Quick Cooker, I became a Pampered Chef Independent Consultant. I was one in 2004-2005 LONG before I became active on the Internet. I did well with it then, and I have always been a hermit crab. I have decided to take the chance on doing it again.
What are your favorite quick easy meals to make?
Instant Loss: Eat Real, Lose Weight: How I Lost 125 Pounds―Includes 100+ Recipes
The Step-by-Step Instant Pot Cookbook: Healthy Eating and Living | Easy & Flavor-Filled Recipes
The Must-Have Instant Pot Cookbook: Quick, Easy & Healthy 1001 Instant Pot Recipes Your Whole Family Will Love ( for Beginners and Advanced Users )
Instant Pot Cookbook for Beginners: 1000 Day Quick and Easy Instant Pot Recipes Meal Plan: The Most Complete Instant Pot Recipe Cookbook for Beginners … Instant Pot Pressure Cooker Cookbook)
The Ultimate Instant Pot cookbook: Foolproof, Quick & Easy 800 Instant Pot Recipes for Beginners and Advanced Users (Pressure Cooker Recipes)
Instant Pot Pressure Cooker Cookbook: 500 Everyday Recipes for Beginners and Advanced Users. Try Easy and Healthy Instant Pot Recipes.
The Best Pressure Cooker Recipes on the Planet: 200 Triple-Tested, Family-Approved, Fast & Easy Recipes