Reading and Language Arts have to be my favorite topics to teach. We love adding Progeny Press guides to our Language Arts studies so we were excited to receive Charlotte's Web E-Guide this time to review.
About Progeny Press Charlotte's Web E-Guide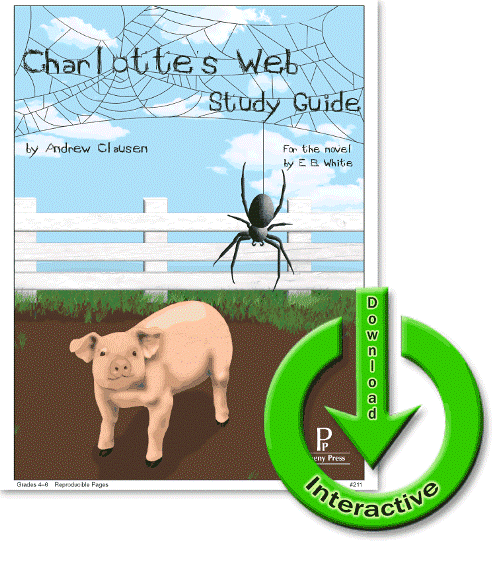 Charlotte's Web E-Guide is a comprehensive guide to help students to learn how to further break down what they are reading. This guide is designed for students in grades 4-6. It is 55 pages long. It's available for digital download for only $17.99.
My Review
The Charlotte's Web E-Guide truly is a study guide that helps parents to take their kids on an educational journey beyond the books they read. Progeny Press Study Guides are designed to help parents to use these books as starting points.
The beginning of the guide provides us with a summary about the author and illustrators. Then the instructors are given some pre-reading activities to do with our kids. My kids had fun learning about the wide range of spiders and their many traits. In fact, we used CuriosityStream for some of this.
The guide helps my little readers to start to think like an author through various activities in the book. One of our favorites was describing how the barn smelled. My kids loved coming up with more ways to describe the barn. Of course, the topic of anything being "stinky" certainly has a way of getting my boys on a roll.
As a mother, I appreciated the fact that this study guide encourages my kids to explore themes from Charlotte's Web in the context with our relationship with God and others. This is not limited to people, but animals as well.
Since I was going through this guide with my tween son, I am glad that we had the chance to talk in depth about the fact that we have rules for a reason. Freedom is a wonderful thing, but it's not always beneficial for someone who's not quite ready for it. By doing this lesson and talking about Wilbur's journey we were able to dive into his feelings of being trapped, but yet wanting to be a bit freer.Since I'm a helicopter mom in many ways, that was enlightening for me.
There are plenty of other aspects of this guide that takes the simple popular Charlotte's Web story and transforms it into something even more advanced. It's well worth investing in. Kids learn a lot of different aspects from vocabulary, writing tips, morals, and life lessons. Not to mention the standard lessons that come from reading a book in depth and studying it.
Learn More About Progeny Press
You can learn more about Progeny Press by visiting their
website
. You can learn about
Facebook
,
Twitter
,
Instagram
,
Youtube
, and
Pinterest
.
Talk to me in the comments, please:
Do you think your kids would love this?
Be sure to check out the rest of the Homeschool Review Crew had to say about the study guides they got to review by clicking on the image below.