We love the Thin Stix and wanted more colors so we were excited to receive Thin Stix Creativity Pack from The Pencil Grip, Inc. to review this time. Zeva and Delbert love to paint, but I don't like the mess that comes with them doing it. Thin Stix Creativity Pack helps us all to be happy.
About Thin Stix Creativity Pack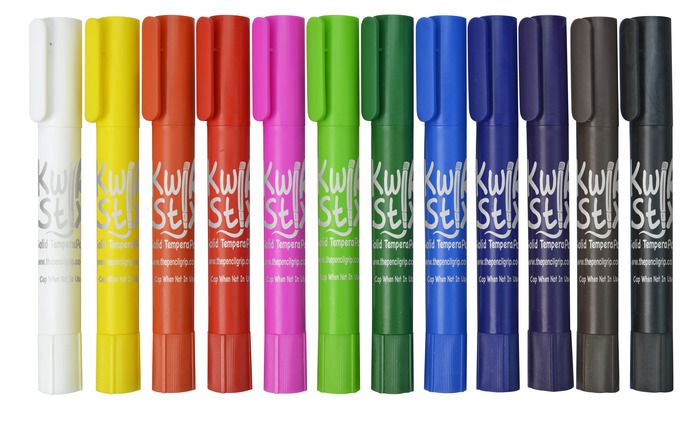 The Thin Stix Creativity Pack was created to help kids to have the freedom to express themselves through painting without all the mess. They are designed for kids ages 3 and up. In this set, there are 24 bright colors included for only $
24.99
($19.99 –
for a limited time only
). They are made so that they are washable, and nut, egg, and gluten-free. This pack comes included with the 12 classic colors, 6 neon, and 6 metallic colors. They are simple to use because you just need to take a cap off and start using them.
My Review
We were thrilled to get the chance to review these again. When Zeva saw them come in the mail she couldn't wait to use them. She remembered us getting a pack of twelve of these to review ages ago. She LOVED them then and she loves them even more NOW. The fact that this pack had 24 of them in it was a pleasant surprise for her.
Since she is STILL struggling with learning how to write properly, I decided to print out 123 Homeschool 4 Me's free alphabet dot printable. This combination has come in handy for helping her to learn her the pattern on how to write her letters.
She has also used them to color images by numbers with the many beautiful colors that are included. She also loved making her own creations with them. She gets loads of enjoyment from being able to paint freely at her desk. I have peace of mind that I don't have to worry about water spilling across our electronics.
I'm also a huge fan of the fact that this paint dries rather quickly. It is washable so I don't have to fear her getting it all over her clothes or herself. It is free of many of the toxins that other paints carry.
They do truly work well on many different kinds of surfaces. She can take them and make a cardboard fort or enhance her Daddy's woodworking pieces. The options feel almost endless with these sticks in her hands.
My mother-in-law likes to use these sticks on her projects too because they are so quick to use. Since these are thin sticks, it's easier to paint smaller surfaces with them now too.
Learn More About Pencil Grip, Inc.

You can learn more about Pencil Grip, Inc. by visiting their
website
. You can connect with them on
Facebook
,
Twitter
, and
Pinterest
.
Talk to me in the comments, please:
Do you think your child would benefit from using these products?
Be sure to read what the rest of the Homeschool Review Crew had to say about these products by clicking on the image below.