Even though I am a veteran homeschool mom, I was blessed to review the Homeschool Rescue from Only Passionate Curiosity. While I love homeschooling my kids there are still times when I feel overwhelmed. There are times when I doubt whether or not we'll get everything done just on their homeschooling journey alone without thinking about everything else on my to-do list.
About Homeschool Rescue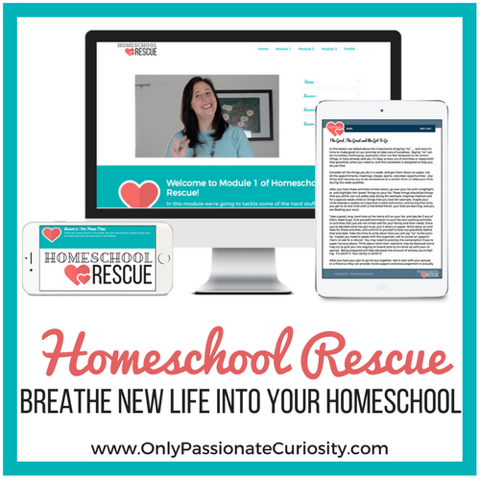 Homeschool Rescue was designed to help mothers be excited and ready to homeschool their kids with greater confidence. Homeschool Rescue is a 60-Day course that will help you to have the support and organization that you need. There are two options available for membership.
In the first module, she helps a mother to gain self-confidence in the beginning. She also covers ensuring that the homeschool mom is in the right frame of mind to teach her kids.
Then in the second module, you learn how to manage your time. She provides you with resources and ideas on how to make that happen.
The third area module, she goes over getting your homeschool set up and ready for lessons. This includes everything from the curriculum to the way the homeschool room/area could be set up.
In the fourth module, she teaches people how to get kids on board with helping around the house and staying on task with their lessons.
Then in module five, she helps homeschool moms in raising their teens.
You can choose one of two options for membership:
My Review
When I first looked at this course I wasn't overly impressed. However, that's because in module 1 she stresses that mothers need to be in the right emotional state in order to teach their kids. I know that's true!
My doctor and I have been trying to find the right kind of depression AND hormonal pills to get my body back on track for almost a year now. So far, we haven't found the right combination that works. We've come close only to have my body get used to after a few months. Considering her warnings in the first module, it made it hard for me to complete this course at that time.
I have since started a new regiment that is having a positive impact, but it's not quite where we want me to be. We do feel like we are getting closer though. That has allowed me to see just how valuable this course truly is for a homeschooling mother regardless where she is on her journey.
This course will help any homeschooling mother get her ducks in a row. She has covered the emotional and mental transformation that needs to take place. She has guided us into getting our time and home in order for teaching the kids. She even helped us with getting our kids on board with running the home properly.
This is a valuable program. The connection and support in her Facebook group are pretty awesome too. She has done a great job of getting the members to interact and want to be active in her group. That has added to feeling like we're supported and gaining bonds with other homeschooling mothers.
Overall, I recommend this course! I'm eager to see what the Live Course gives us this summer.
Gain More Information
You can gain more information about Homeschool Rescue by visiting their website. You can also connect with them on Facebook, Twitter, Pinterest, Instagram, and Google+.
Talk to me in the comments, please:
Do you feel you need some help getting your homeschool in order? Do you need more support on this journey?
Be sure and check out what the rest of the Homeschool Review Crew had to say about this program by clicking on the image below.