As a parent, I have been on the fence many times about the regulations of my kids' online activities. Yet, I also know it's vital that they learn how to handle being online and online communication systems. I am so glad that we were given the Annual Subscription from KidsEmail.org to review as a part of the Homeschool Review Crew. My sons now have their own kids email to use that I can trust will keep them safer online.
About KidsEmail.org
This is an online system designed back in 2009, to help parents to allow their kids to be able to have email accounts and parents the ability to protect them from many of the dangers of the online world. This system is perfect for kids of all ages because it allows them to have the freedom to send emails as they see fit, but with parental supervision at all times. If you buy the Annual Subscription it's only $38.95. If you decide to go the monthly route it's $4.95 for up to 4 email accounts.
My Review
The peace of mind this program offers is perfect for an overprotective mother like me. I have seen many of the dangers that can happen first hand online (and in person) in my life. I don't want to subject my kids to it too early in life. Yet, I want them to have the freedom to contact friends and family members that live far away. KidsEmail.org allows me to do that with a huge sense of freedom because once I put in the settings that I'm comfortable with, I can basically forget about it.


As you can see from the settings page, I can get copies of all emails that my kids sends and receives and regulate what happens with them. To some people, it may feel like an invasion of privacy. However, I'm a firm believer that if my kids want privacy then they need to get a job and move out on their own. As long as they live under our roof then I need to know what they are up to and help them to be responsible for their decisions. (Notice I didn't say make their decisions for them. I do hold them accountable for all of their actions.)
Plus, if I see that they are abusing the right to have the email account, I also have the power to put them into a restricted mode for however long I deem appropriate. Considering, I had given my oldest an email account and he abused that right and I had to delete it completely, this is a wonderful feature for me AND him. Now he can feel comfortable knowing that he won't lose the ability to sign into MANY accounts he may have created with this email address.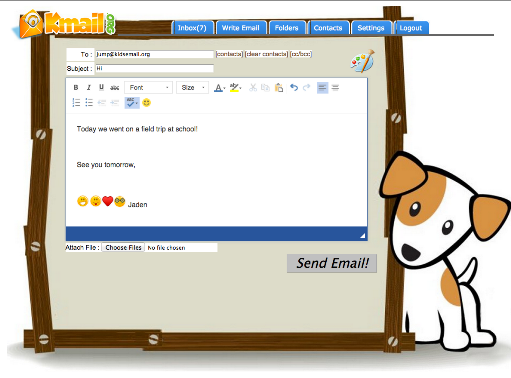 It's great for my little ones because they can get creative with their emails. Both of my younger kids love to decorate things and be super crafty. In this sense, it makes learning about emailing people fun and engaging. I've learned a long time ago that if I want my kids to be better writers that it's nice to make them email me letters daily. They love having the ability to write whatever is on their minds and knowing they'll have my undivided attention as I read their emails and respond to them. (If you have multiple kids you know how precious the undivided attention concept is to a kid!)
Overall, I would be quick to recommend that you try this program out with your kids. Right now, you can even do that for FREE. Be sure and click on the image above to take advantage of that deal.
Connect With KidsEmail.org
You can learn more about this amazing program by visiting KidsEmail.org website. You can also connect with them on Facebook, Twitter, Pinterest, Google+, and Instagram.
Doesn't this sound like a great kids email system to start them off with?
Be sure to click the image below to read what the rest of the Homeschool Review Crew had to say about this product.