One of the things I get asked the most what kind of products are available for preschoolers and kindergarten students. We've been using online program from K5 Learning to supplement my daughter's math and reading lessons. Zeva has been eagerly asking to do work on this program.
About K5 Learning
K5 Learning is an online supplemental learning system for kids in Kindergarten to Grade 5. There are three aspects of K5 Learning. They cover K5 Reading, K5 Math, and K5 Spelling. K5 Reading helps students with phonics and sight words and more. K5 Math covers many of the basics of math. It even helps with algebraic thinking. Parents have the ability to customize the K5 Spelling lessons. They also have an extensive word database too.
They also include free worksheets to use with each lesson. These sheets are pretty easy for the kids to, but they are laid out in such a manner it feels like puzzles for the kids to do.
You can get all of this for $14.95 per month or $119 a year for the first child. For each additional child, it's $9.95 per month or $79 a year. You can try it all for FREE by using their
free 14-day trial.
My Review
As I stated, Zeva loves to learn new things. She had fun going through these lessons. She took their elevations, and according to their standards, she was in 1st-grade status. I knew that wasn't true. She whizzed through many of the lessons. The only problem was she had some technical issues with doing it independently. I believe that was more because of her rather than the program itself. As a result, she has to have me or one of the boys help her with these lessons.
For as much as I love education and seeing her learn, I can only take so much of a program that is overly designed for young kids. It grated on my nerves the fact that they used some voices that sounded like someone talking to a baby rather than a child in Kindergarten and beyond. I didn't get see what the program was like beyond her Kindergarten level.
The material on this program is really good! I love how colorful and bright everything on the site is laid out. Zeva was quickly able to figure out what the program was expecting from her for most of it. There were a few sections (which may have been when she was tech savvy) that threw her off some. I love how they made everything fun for kids. They designed everything so it feels like it's a game both online and in their worksheets.
Even though I have to do the work with Zeva, it's still nice to have access to progress reports. It's nice to look back with her to show her how much she's progressed. She loves to have visuals showcasing her work.
Overall, this is a really awesome online homeschool supplement to use with the kids. It's definitely reasonably priced for what the kids get with it.
Learn More About K5 Learning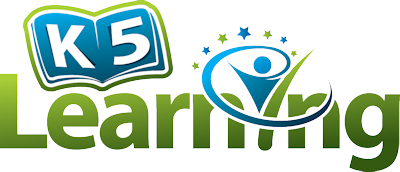 You can learn more about K5 Learning by visiting their
website.
You can also connect with them
Facebook
,
Twitter,
Pinterest
, and
Google+
.
Talk to me in the comments, please:
Do you think your child will like this program?
Be sure to see what the rest of the Homeschool Review Crew had to say about this program by clicking on the image below.