I talk a good bit about all of the products we get to use for the boys. It's nice to have finally received a product for Zeva to review through Schoolhouse Review Crew. She has been having a good bit of fun reviewing the Jolly Phonics and Jolly Grammar products from jollyliteracy.com. Jollyliteracy.com, also known by the official company name just2ducks LLC, is a different program than any I have seen before for younger kids.
We got the chance to review the following items:
Jolly Phonics Teacher's Book in print letters
Jolly Phonics Student Book 1, 2 and 3
Jolly Grammar 1 Teacher's Book in print letters
Jolly Grammar 1 Student Book
Jolly Songs in print letters
About Jolly Phonics
The Jolly Phonics program is designed for younger children. It's is set up to help with teaching young kids the basics of phonics. The teacher uses the Jolly Phonics Teacher's Book with the three corresponding books for children, Student Books 1, 2, and 3. The primary purpose of this program is to teach the English alphabetic code. The students are taught the alphabet sounds, the 42 main letter sounds, and how they are written.
About Jolly Grammar 1
Jolly Grammar 1 is a program that covers both grammar and spelling. The first week's lesson focuses primarily on spelling and the second week is spent working on grammar. For every activity page that needs to be done in the Student Book, there is a corresponding page filled with lesson plans and guidance to help the teacher.
Our Review
Zeva LOVES this program. She surprised me with her eager willingness to work through these books and assignments. I started her on the Jolly Phonics Student Book 1 because she has not been taught anything to major yet. She couldn't wait to learn how to write out her letters and words each day.
She has always had a strong love of reading. She couldn't wait to learn how to read these starter words that were used in this book too. She had fun picking out the images that fit the sounds she was instructed to look for. Her favorite part though was the action suggestions that the book gave her to do for each sound. For example, she would be instructed to pretend that she's a plane while making the nnnn sound with her wings spread out flying around the room. She truly didn't want to stop doing that activity.
We have not fully gotten through Jolly Phonics Student Book 1 and the activities associated with it. However, I'm eager to dive into the other books we got because they expand on various aspects of grammar and spelling. I like how each lesson uses multi-sensory aspects to teaching her new concepts.
She does love the collection of songs set that has songs for each of the 42 letter sounds. She has always been a music buff and this just makes learning so much fun for her. There is also a book that accompanies the CD that is filled with the sounds from the CD.
I do see where the lessons are going to get a bit more intense, and am a bit concerned about Zeva's ability to keep up with the workload. However, it will make for a fun challenge for us to do together. She is a studious student determined to learn as much as she can.
I would highly recommend this set to anyone wanting to teach their young children grammar and phonics. jollyliteracy.com is an ideal place to start with teaching these concepts. You can check out their current order form for their list of prices for each of the materials.
Learn More About jollyliteracy.com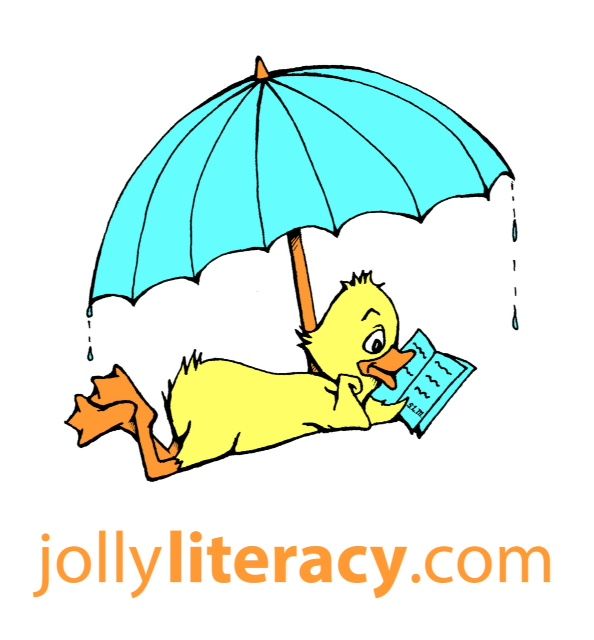 You can learn more about jollyliteracy.com by visiting their website. You can also connect with them on Facebook, Twitter , and Pinterest.
Do you think your kids would like this program?
Don't forget to check out the fellow Schoolhouse Review Crew's reviews of this item by clicking on the image below.