Sometimes being a homeschooler leaves a mom feeling overwhelmed. They often get pulled in a hundred directions a day from the time their feet hit the ground until their heads hit their pillows. That's why it's vital that they also know how to make time for self-care as a homeschooler. This sounds incredibly easy until one has to fit it into their crazy hectic lives. I know for me finding time to do things that make me feel refreshed and healthy seems to be like pulling teeth. I know that it's not only beneficial for me, but also for my family when I take time out for myself. I believe the fact that Mother's Day is coming up, it's dawning on me how much I've let my NEEDS take a back seat to much.
Get Rid of the Mom Guilt
I have found that one of the biggest reasons I don't make as much time for self-care is because I feel guilty for doing anything for MYSELF. I don't go to the gym because I should be at home stuck the computer striving to ensure that I'm gaining more attention on my blog. I don't feel right taking off on the four-wheeler by myself because I'm afraid the kids will feel left out.
Here's the thing, a mother's job is truly NEVER done! A mother who strives to maintain her sanity and pursue her passions finds herself with a full day. Typically speaking, there is usually something that falls through the cracks. We're made to feel utterly terrible for not having it all together every day.
A mother's job is never done. Find out how to make time for #selfcare! #mothers #motherhoodtips
Click To Tweet
The kicker of it all is that when women don't take the time to take care of themselves. They are hurting themselves and their family. Motherhood is stressful and exhausting, for me anyways. We DESERVE to make time for self-care!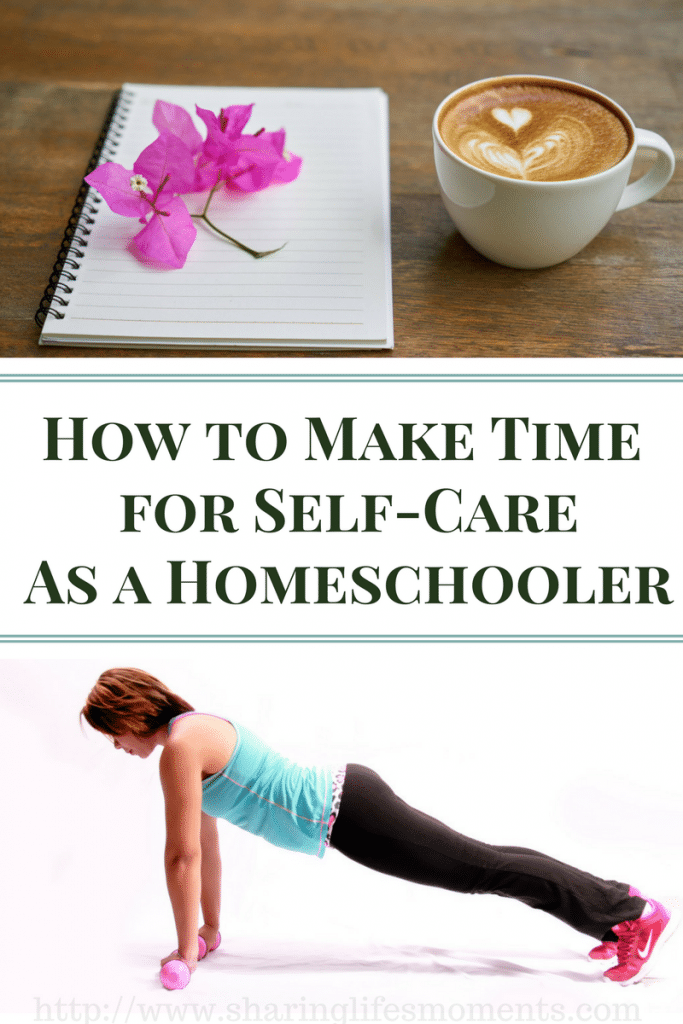 How to Make Time for Self-Care
There are quite a few ways to make time for self-care as a homeschooler. It's not nearly as complicated as we make it out to be. I can't stress enough that it benefits everyone when Momma makes time for herself! Here are some ideas on how you can do it too.
Wake Up Earlier Than Everyone
A common thing for many moms is to wake up earlier than everyone else. Most of the women I know who do this savor a cup of coffee either over devotionals and/or watching the beautiful sunrise. I know my mom would drink her cup of HOT coffee while rocking on her swing watching the sunrise over the field across from our house. The rule was that I could join her ONLY if I was completely QUIET and let her lead the rocking pace.
As a child, I couldn't understand why she would want to wake up so early. I gladly rolled over and went back to sleep when I heard her getting her coffee and going out the front door. Once I became an adult and stayed with her for a short period, her coffee time became our time to talk heart to heart without my little ones underfoot. I treasured that time as much as she did.
I know many fellow moms who choose this route because it's probably the most peaceful route to take. I am NOT a morning person. I know that these ladies are certainly onto something pretty intense.
Stay Up LATER Than the Kids
This is my preferred method. I prefer to stay up late a couple of nights a week. I do typically get a good chunk of blogging done. However, there are many times when I become so exhausted that nothing gets done and I end up going to bed early. Or like this week, I have appointments that force me to go to sleep early. So, I have to make up for it another time.
During Nap Time
Oh, how sweet the sound of nap time is! I MISS nap time. None of my kids continued to take naps after they turned three years old without a HUGE fuss or EVERYONE having to take naps with them. Those were the golden days! Nap times are the perfect time to get a lot of things done! They are also ideal times for Momma to catch up on her needs for sleep and rest.
Do Homeschooler Swap Days
This tip is primarily for moms whose husbands are hardly ever home. Sometimes it's beneficial to leave your kids with other homeschooling families so that you can hit the local spa for a day of pampering. I know many homeschooling families already trade off for the sake of running errands without having kids in tow or because the other parent may be stronger in a particular topic than you are. I've not seen that many moms consider doing it for PLEASURE reasons. It's a shame. It's popular for couples to trade off babysitting duties to have a date, why can't moms do it just to have a day to themselves?
Get Hubby Involved
I don't recommend this option with abundance because most men work hard for their families and that's the primary reason why women can stay home and homeschool their kids. I don't like to add more responsibilities and tasks to my husband than he WANTS to take on during his time off. In my case, I'm blessed to have a husband who already intends to be a hands-on Dad and spend time with his kids. He gladly takes on having all three kids under his wings for several hours so that I can make time for self-care.
However, I know too many men who don't feel the same way as him. Unfortunately, if you're married to a man who believes raising the kids is up to you 100% of the time. I highly recommend having a heart to heart talk with him about you getting at the very least a few hours of time for yourself each week without any responsibilities of any kind. Even if it means investing in a babysitter for that time frame if he's not willing to give up his time off and spend it with his kids.
I'm a firm believer in my husband ruling the roost, but not to the extent that my health and well-being is at risk. I'm stressing this for a long list of reasons that haven't been mentioned on this blog yet.
What Does Self-Care Look Like?
I don't know about you, but after I had become a wife and a mom for an extended period, I let myself go. I didn't worry about my health or well-being. I strived to take care of the family's needs first and foremost. After spending loads of time in the doctor's offices in the past year and a half now, I don't have that same mentality. Now, I am making certain I have time for my self-care. I'm SCHEDULING time into my crazy hectic life with the help of my husband to make sure my needs are met.
Self-care includes eating healthy, exercising, pursuing a hobby, personal hygiene, and having quiet time. It amazes me how quickly these things became something that I let slip through my fingers and off my radar. I want to encourage others to not fall into this trap too.
I'm not alone in this mission!
Below you can read what other bloggers have written about helping homeschoolers to make time for self-care. Be sure to check them out too.
Talk to me in the comments please:
How do you make time for self-care?