I've always stressed that grammar isn't my strong suit. If it wasn't for handy apps on Chrome I do declare I'd probably look like a blubbering idiot when I write these blog posts. I am glad that we were given the Excellence in Literature Handbook for Writers by Everyday Education, LLC as a part of the Homeschool Review Crew. This book is designed for high school students headed to college soon. I opted to review this one for Jimmy and me to do it together.
About Excellence in Literature Handbook for Writers
The Excellence in Literature Handbook for Writers is designed to be the primary guide for high-school to college students will need for properly handling literature assignments and projects. This guide covers how to write essays. It also encompasses punctuation, style, and usage. This valuable literature resource is a full-size textbook style guide that reveals many things in within its 420 pages. You can buy it for $39.00.
My Review
I used the Excellence in Literature Handbook for Writers with Jimmy. I reviewed many of the first section with him. Along the way, I found that I am guilty of many of the common errors listed in this book. (That's not saying that I have these skills engraved in my head, but it did trigger some memories of learning these things when I was in school.)
The one thing that stood out to me was the part about the indefinite pronouns. I found that was something I couldn't give a name to, but knew it needed to be done. It was nice to be able to give him the correct terminology. Another section that I needed to review closely was the passive verbs. I still haven't fully wrapped my head around this concept. I tend to write in passive form quite a bit. Although, I don't know why I have that particular writing style.
I also found out that I'm extremely guilty of the "passive impersonal phrases." I always wondered why when I read other author's work that I was more captivated by what they wrote versus my own writing. I believe it's safe to say that "passive impersonal phrases could be a bit of the reason why there was a lack of connection happening between my readers and myself.
Another red flag that stood out to me was the "length of compound sentences." This is something I've been at fault with doing too. Due to Jimmy learning to write strong essays on his own, I have seen the error of my ways on this one, but I still catch myself falling into this trap.
Overall, I feel this book is a valuable resource for homeschooling students and parents to have on hand. The first section alone makes it worth the cost to get this guide. There are a lot of grammar rules to learn and memorize. It astonishes me that I actually use to be a "grammar police" for my high school newspaper, but you wouldn't know it now. Reviewing this guide has certainly given me a swift kick in the rear.
Learn More About Everyday Education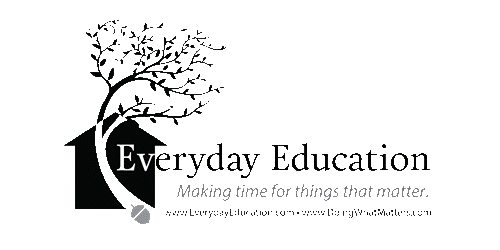 You can learn more about Everyday Education, LLC by visiting their
website
. You can also connect with them on Facebook,
Twitter
,
Pinterest
,
G+
, and LinkedIn.
Do you think this high school English and Grammar writer's handbook would help you and your family?
Be sure to see what the other Homeschool Review Crew had to say about their Everyday Education, LLC products by clicking on the image below.