Gaming of any kind is a vital part of our world here. It's one of the reasons why my kids love to be homeschooled. We strive to make education as much fun for them as possible. Since we love playing games here, I was excited to add Commissioned from Chara Games to our family game night selection.
About Commissioned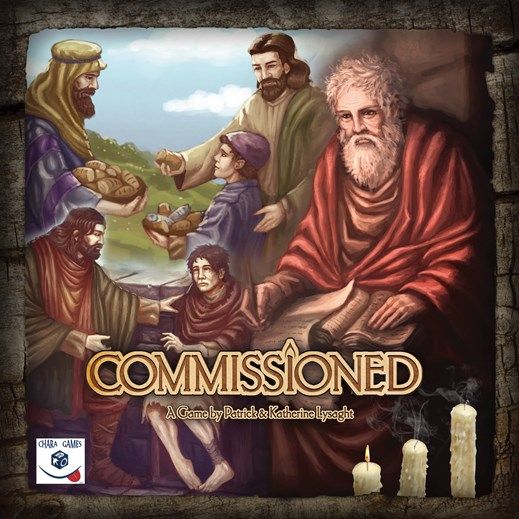 Commissioned is a strategy game that covers the history of the early Christian Church. The players work together to grow their church and overcome persecution. They are also collecting books of the New Testament and enhancing the faith of the church along the way.
This game was made for players that are 14 years old and older. It can be played with 2-6 players. It is also designed to be played within an hour time frame.
The game comes with a vibrant game board full of colorful details. It also comes with all of the game pieces needed to play the game.
Here is a video that shows how to play it:

As you can see from this video there is a good bit to learn in order to play the game to start with. There are five different ways to play the game. The player can be either a Martyr or a Disciple.
My Review
Since I had a heck of a time trying to describe this game to my kids we had to watch the video numerous times. Even then we still didn't FULLY grasp playing it. I think this game is trying to encompass too many aspects into one game. (However, my simple mind may be the only one who feels this way!)
Jimmy and Del enjoyed playing this game the most because they are both competitive individuals. They were also the only ones who truly knew how to play the game after watching the video. Del liked the fact that the game was focused more on the history of the early Christian Church versus the actual religion itself. He didn't feel like the game was causing him to feel like he was being encouraged to have a different religious belief in any way.
They were able to complete the game within an hour without much difficulty. They tried a few of the scenarios, and hope that they will add more to the game so that it can be played more than five times. However, the price point of $31.24 + $5.99 shipping isn't a bad price to pay for five hours worth of entertainment.
Learn More About Chara Games
Chara Games has Commissioned and also a new game called
3 Seeds
. 3 Seeds is a light strategic card game that is designed to be a 2-5 player game that can be done within 30-45 minutes.
Be sure to visit Chara Games website to learn more information. While you're there be sure to read about the history of the Chara Games. You can also connect with them on Facebook and Twitter.
Do you think your family would enjoy playing this game?
Be sure to read what the rest of the Homeschool Review Crew had to say about this product by clicking on the image below.