Homeschooling using textbooks and workbooks has a way of becoming T totally boring for everyone involved. After having the opportunity to create lap books, I decided it was something I wanted to do more with the kids. Then I was given the chance to review NotebookingPages.com through the Schoolhouse Review Crew. The Lifetime Membership from NotebookingPages.com is a great way to enhance learning and create a beautiful portfolio showcasing what you've learned.
About NotebookingPages.com
NotebookingPages.com is a program designed to give students the chance to use their own methods of learning to grasp their concepts. It is basically a long list of decorative printables for a teacher to give to their students. The students then take those notebooking pages and showcase all the various things they've learned about those topics.

My Review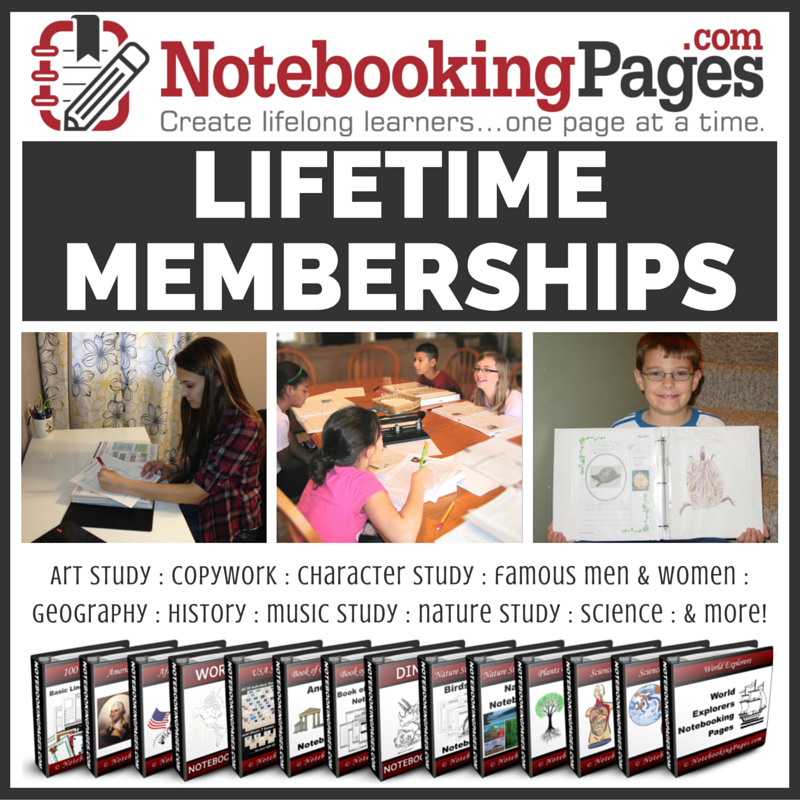 We were given the chance to review the
Lifetime Membership
from NotebookingPages.com. I'm glad we were given that opportunity because I do feel that learning is something that should be done for a lifetime. These notebooking pages will come in handy as they grow up because it allows them to create homeschool notebook pages for ALL the various kinds of topics. All of the topics are well organized into nicely neat little landing pages.
These notebooking pages are decorative and provide ample room for students to journal their various notes on the given topic. Each topic also has pages where the students can draw or place pictures on them too. Unfortunately, you can't see just how gorgeous these pages are due to the fact that I can't get my printer to print in color now.
My kids had fun being "in charge" of their learning. They were able to use anything they needed to gain information about whatever topic we were discussing. They had a lot of fun going to the library and asking for assistance with obtaining information about various Presidents, other states, and so much more. They had fun letting their creativity explode with making collages and other bits of art projects.
This style of learning opens up a whole new world. It allows us to explore and learn together using almost everything at our fingertips. Plus, they can create their own notebooking journals on these topics for easy reference in the future. When they had to do the research and study the material they were able to learn what interested them most. That lead to them learning the material versus just memorizing it for an upcoming test.

You can check it out for yourself by taking advantage of their Free Resource Center. I'm confident your kids AND you will have fun with this system of learning. It's a true memory making system.
By using notebooking pages you are able to quickly and easily showcase your child's work and things they've learned. They are proud to show them off to others because they created their "textbooks" of learning.
Learn More About NotebookingPages.com
You can learn more about this unique learning system by visiting
NotebookingPages.com website
. You can also connect with them on Facebook and
Twitter
.
How would you use NotebookingPages.com with your family?
Be sure and check out my fellow Schoolhouse Review Crew's review of this product by clicking on the image below.