This post may have been sponsored and/or contain affiliate links. Please visit our Policies Page for more details.
I'm a big advocate of my kids learning a foreign language as early as possible in their lives. I've always been told it's far easier to learn a new language the younger a person is. We have been blessed to have been using the Starter Set 1 from Foreign Languages for Kids by Kids to learn Spanish in exchange for an honest review thanks to being a part of the Schoolhouse Review Crew.
The Foreign Language For Kids By Kids is an interesting little program. When I got the supplies I was a bit unsure if it would work with my kids. This is UNLIKE any other Spanish curriculum I have ever seen before. This system has the kids learn the words and their meanings in a natural way using the DVDs, card games, and also workbooks. We got to review the Starter Set 1 which sells currently for $140.25 with the 15% discount they have going on right now.
This set includes:
DVD with videos for Levels 1-3
Three Parent-Teacher Guides which sets out a detailed lesson plan, with a suggested viewing schedule and a variety of fun, supplemental and hands-on activities to choose from to reinforce the material taught in the videos.
Flashcards and Card Games for Levels 1 to 3
Workbooks for Levels 1-3
Stickers for Levels 1-3
Kit Strauss, the creator of Foreign Language For Kids by Kids, created this kid's Spanish curriculum as a result of not finding a program that would adequately teach her own kids Spanish. She's already invested the years into ensuring that this system works. The overall goal of this program is to help kids to learn Spanish in a fun rememberable manner for them.
Our Full Review
My two younger kids  found this program to be a bit challenging but exciting at the same time. My five-year-old daughter already likes to figure out what people are saying in books she can't read and in shows when I mute them. So, for her, the way the guide for teachers and parents instructed me to teach her was no big deal. She went with the flow without much difficulty.
As for my son who just turned 9, he wasn't overly thrilled with the concept that he had no clue what the kids were actually saying in the videos. Plus, he got frustrated when he didn't know what the words meant or how to use them in the workbooks. He takes after me and doesn't like puzzles or riddles to much. This system uses that same style concept because the guide instructs us to have the kids figure out their means on their own.
He takes after me and doesn't like puzzles or riddles to much. This system uses that same style concept because the guide instructs us to have the kids figure out their means on their own. Now granted, I could have given him the meanings, but I felt for this review it wasn't right to go that route.
My oldest son who is almost 13 had fun with this program. However, he had a slight advantage in that I've already had him endure several Spanish classes using a different program two years ago. Amazingly, some of his knowledge from that course had been retained.
In my opinion, if you have children who love to solve puzzles, riddles, or have a wonderful sense of imagination then this program will be fun and engaging for them. They will soak up the knowledge with very little effort and retain it for a long period of time.
Learn More About Foreign Language For Kids By Kids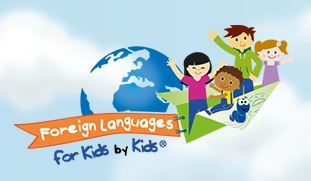 You can learn more about Foreign Language For Kids By Kids by visiting their website. While you're there you can even try out some of their products using their free trials. Also be sure to connect with them on
Facebook
too.
Do you think your kids would like this Spanish curriculum?
Be sure to check out with the other Schoolhouse Review Crew had to say about this product by clicking on the image below.